Shipping and Shopping Cart
How to calculate shipping
The total shipping charge will depend on what items you order and your specific mailing address. We send all our packages via the U.S. Postal Service.
You can see the total charge (including postal costs) using our shopping cart. Just add the items you are interested in to the shopping cart, continue to the next screen and enter your address information.
Then click on the "refresh" button in the shipping section, and it will calculate and display all costs for the order.
See below screens for more help:
---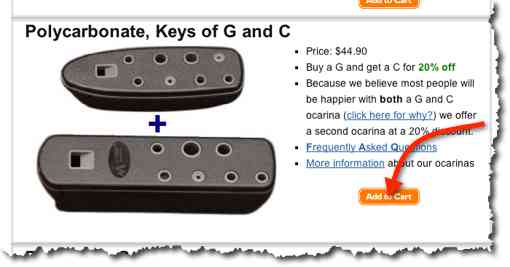 Add items to the shopping cart
---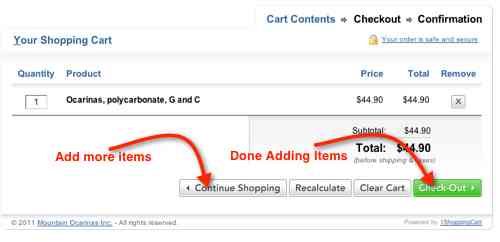 In shopping cart click the "Continue Shopping" button to add more items and use the "Check Out" button after you have added all items.
---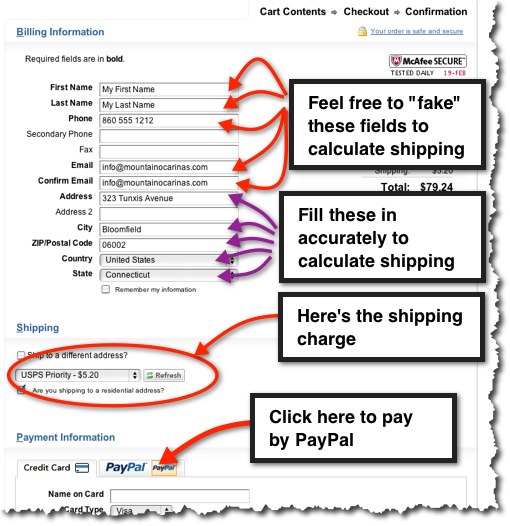 If you only want to calculate shipping costs you can fake some of the fields.
---
General shipping information
We try to ship orders in 1 to 2 business days. If we expect a delay in fulfilling your order we will notify you by email. When we ship your order, we make a request to the USPS to send you an email containing your delivery confirmation number. There have been a number of times when customers have not received their confirmation number from the post office. If you have not received your confirmation number within several days, feel free to email or call us to follow up.
–>> Mountain Ocarinas does not charge our customers for any handling fees. <<--
Priority Mail does not guarantee delivery times, but usual transit time is between 2-4 days. Transit times for international orders will vary depending on time spent in customs and local delivery systems. Please let us know if your international order has not arrived within 2-3 weeks so that we may investigate the delay. We are committed to getting your order to you.
IMPORTANT: The USPS tracking does not offer scan by scan processing to track the package en route (like FedEx, UPS, etc. do). Sometimes there is no change in the tracking information until your package is actually delivered, making the service more of a "delivery confirmation" service than true tracking.
Shipping outside of the U.S. is expensive and can experience delays
Postage costs are quite high for us to mail outside of the US… which you'll see when you use the cart. We do not pay any duty/taxes on behalf of the customer. We only pay actual shipping costs. We pay some extra handling charges on non-US orders that we do not charge the customer for.
–>> Mountain Ocarinas does not charge our customers for any handling fees. <<--
Transit times also vary widely for orders shipped outside of the US. The biggest variable in how long it takes a package to reach you will be how long it takes to make it through customs in your country.
While we are committed to getting your order into your hands, we cannot be responsible for international shipping delays as we have no control over customs processing and the international delivery systems used by USPS. We are therefore unable to honor requests for re-shipment until 6 weeks after the order was placed for orders shipped outside of the U.S.
How long does shipping take?
There is a thread on our forum here that may be informative where customers have posted how long it has taken to receive their order from us:
http://www.ocarinaboard.com/bb/index.php?topic=116.0
Calculating Costs In Your Country's Currency
A customer contacted us asking what the charges would be to her in New Zeland Dollars for a polycarbonate G and C and 300 Celtic Folksongs book. Here is how I explained it:
Thank you for contacting us. I hope this isn't confusing… but we can't accept payment in non-US currency.
The way it works is your credit card (or PayPal) will make the payment to us in USD, and will generally charge you a nominal currency exchange fee (which is determined by your credit card company). Because this fee varies slightly from credit card to credit card we can't provide an exact quote in NZD.
Our shopping cart will make the calculation in USD.
If you google "exchange rates"
http://www.google.com/search?q=exchange+rates
Google has a currency conversion calculator (as do other sites in the search results). You will need to click the "view more conversions" link.
There is also a nice currency converter here:
http://www.x-rates.com/calculator.html
I did the above steps and our cart calculated:
Subtotal: $64.85
Shipping: $33.60 USPS Priority Mail International
Total: $98.45 USD
123.11 NZD (according to Google Calculator, plus whatever your credit card company charges for an exchange fee, and this does not cover any import duties that your country would charge you.)
To give you an example of an exchange fee that I pay, I rent a computer server service from a New Zealand company. The charge is 24.28 USD and American Express charges me a $.66 USD foreign exchange fee.
Warmest regards,
Cliff